"Roses are red,
Violets are blue;
But they don't get around,
Like the dandelions do."
Slim Acres
In the beginning I patrolled the garden hawkishly, pulling grass and dandelions out by the roots, scuffing along the rows to keep the lambsquarters from growing large enough to put out seed. Now, at the end of August, most of the veggies have matured, I can see the finish line ahead, and more time is spent in the kitchen, preparing and enjoying the harvest. It's hard to muster the enthusiasm to clear the beds of uninvited squatters.
Fortunately, the cool, bug-free days of September and October are perfect for "fall cleaning": yanking, raking and seeding the beds with cover crops. And the hours of quiet work may lead to a more nuanced attitude towards the wild species that take over when the coddled vegetables and fruits are gone.
Naturalist Richard Mabey shares his appreciation for weeds in a recent article in Slate.  Though we will always be engaged in attempts to overcome them, he suggests that
…every once in a while, perhaps we should take a break from weed-whacking and examine our relationship with these clever and resilient plants, if only to admire their will to live and to multiply.
The accompanying slide show features beautiful photos and bits of trivia about a number of common weeds: the perfect collection to click through while you're sipping a cool drink before returning to the hoe.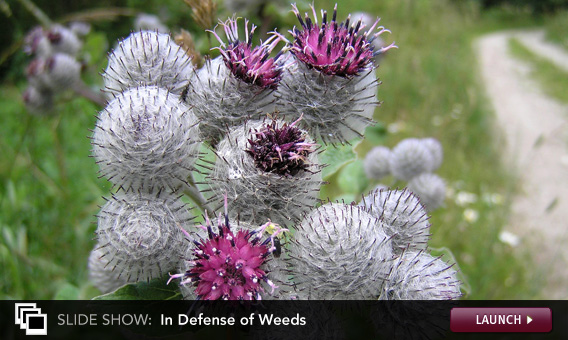 Tags: Richard Mabey, weeds